GIVEAWAY. "Thrive Fitness. The Program for Peak Mental and Physical Strength—Fueled by Clean, Plant-Based, Whole Food Recipes."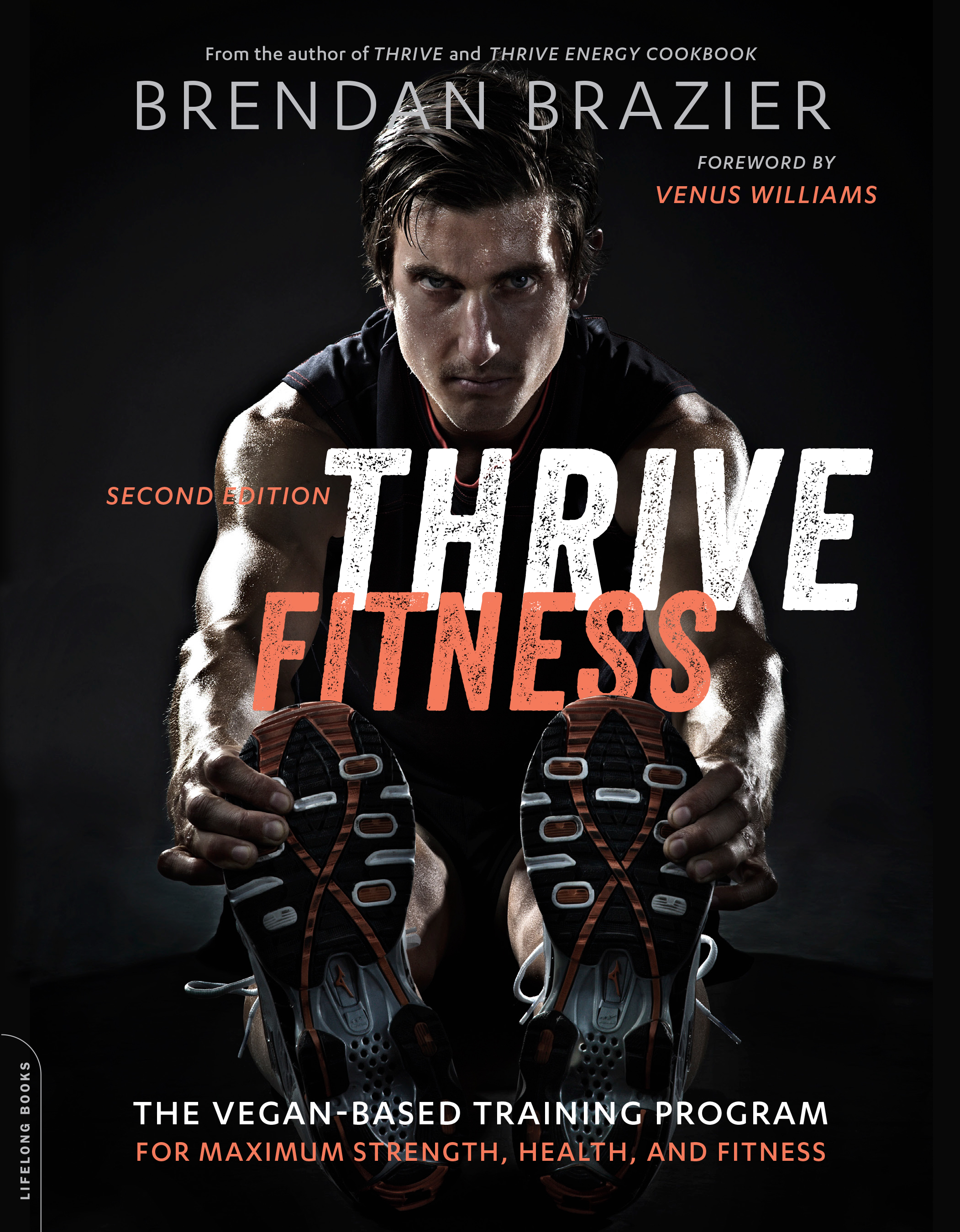 I am a partner and brand ambassador for Vega: a premium, clean, plant based nutrition company. Im so grateful to have found Vega whole food plant based nutrition products and thankful for the strength they've added to my life. Over the years Ive learned nutrition absolutely has to be a priority if you want to look, feel, and perform your best longterm. When you are working, working out, and living a busy life you absolutely need the right nutritional support.  It can be hard to eat naturally without the right resources. Vega makes it easy to get the REAL FOOD fuel you need to live your best life.
Born from the belief that one should not have to compromise between whole food goodness and fast food convenience, Vega products are developed with Alkaline-forming, plant-based whole foods which help build a platform for optimal health. All of their products are dairy, gluten and soy free, and contain no artificial flavors, colors or sweeteners. The nutrient-dense, high net-gain, alkaline-forming nutrition found in plant-based whole foods and natural health products like those offered by Vega is truly the best building material available for your body.
I love working with the company and love that all of the VEGA products are in sync with my whole food-based, clean eating nutritional philosophy. I feel good knowing I am eating real food when investing in Vega products and getting the most value from my eating as a result. I believe in the company and believe in its mission to support a healthier world through it's clean, all natural products. 
I also totally have a huge career crush on Vega creator and co-founder Brendan Brazier . Brendan is a former professional Ironman triathlete, a two-time Canadian 50km Ultra Marathon Champion, the creator the Vega award-winning line of whole food nutritional products, and the bestselling author of Thrive. He is also the creator and host of Thrive Forward, a web series he developed to help people take health into their own hands and boost their performance.
Brendan recently published the Second edition of his best selling book, "Thrive Fitness" and Vega sent me a copy to read. The book is fantastic. I've highlighted page after page, tried out Brendan's workouts and exercises, and cooked up some of his delicious performance enhancing recipes. It's an incredible resource for anyone who wants to improve their fitness, energy, and health. Here's a little more information and the inside scoop on Brendan's book from the publishers:
Thrive Fitness
The Program for Peak Mental and Physical Strength—Fueled by Clean, Plant-Based, Whole Food Recipes
Second Edition
By Brendan Brazier
I am forever grateful to Brendan…I have noticed increased energy and more-restful sleep. My desire for sugar and salt is waning.—Hugh Jackman
The Thrive diet feeds your body all the nutrients it needs without empty calories and with minimal stress.—Chicago Tribune
"Vegan" and "athlete" are not terms that people generally think of together, but as professional Ironman triathlete and longtime vegan Brendan Brazier shows in Thrive Fitness, a vegan diet can help enhance performance at any level. In fact, vegan athletes are top competitors in their sports, living healthy and productive lives on—and off—the playing field.
 In the second edition with a foreword by American professional tennis player Venus Williams, Brazier presents his own easy system for total health and fitness, complete with new photos and step-by-step exercises. Since its first publication, Brazier has made significant developments, specifically to training structure and efficiency. He completely reworked the program to be more dynamic, resulting in gains achieved in less time; and, unlike in the first edition, this program can be performed without any gym equipment and can be done at home.
Whether you're a time-crunched beginner or an experienced athlete, Thrive Fitness will help you:
Sculpt strong, lean muscles

Reduce body fat

Prevent disease and injuries

Increase energy

Cut sugar cravings

Sharpen mental clarity
Thrive Fitness features a complete six-week workout plan and training log, illustrated exercises with step-by-step instructions, the top fifteen foods to fuel workouts, and strategies to boost creativity, productivity, and mental sharpness. Brazier also includes thirty vegan, performance-enhancing recipes like Coconut Lime Curry Chickpea Stir-Fry, Collard Greens Buckwheat Wrap, Pumpkin Seed Pesto, and Frozen Chocolate Brittle, as well as sample menu plans and shopping lists.
Ive read the book cover to cover and loved every word. Its a refreshing read full of resources to support living a vibrant life. Want to know the BEST part? Vega is sponsoring a book giveaway for the Caroline Jordan Fitness community. Enter the giveaway below to win a free copy of Brendan Brazier's "Thrive Fitness" mailed straight to you.
Heres How To Enter:
Visit and LIKE the Vega Fan page and the Caroline Jordan Fitness Facebook page. 
Leave me a comment below and tell me why you want to win a copy of Brendan Brazier's book "Thrive Fitness: The Program for Peak Mental and Physical Strength—Fueled by Clean, Plant-Based, Whole Food Recipes"
BONUS POINTS: Share this blog post on twitter or facebook with a tag to @Caroline Jordan Fitness and @vegafanpage In your post or tweet tell me why you want to win a copy of Brendan Brazier's book "Thrive Fitness: The Program for Peak Mental and Physical Strength—Fueled by Clean, Plant-Based, Whole Food Recipes"
The winner will be randomly selected by March 18th and receive their free copy of Thrive Fitness. SHARE this blog post with your friends on Facebook, twitter, or email to increase your chances of winning your free copy of Thrive Fitness. 
Its YOUR time to THRIVE. I believe that with the right resources, information, encouragement, and support you can fulfill your vision of living well. Thank you Vega for helping me fuel a vibrant, healthy, life. Looking forward to sharing some of the workouts and recipes from "Thrive Fitness" with my community and rewarding one lucky reader with a free copy!
Heres to learning, growing, and fueling our full potential now and always. Till next time, keep moving my friends. 
Caroline
Want to learn more about Vega Sport and Vega products? Check them out on the web, like their page on facebook, or follow them on twitter!
Other Things To Check Out This Week: