Stories From Solage and A FREE 45 Minute Pilates Yoga Fusion Workout
The very first weekend of 2015, I took a small group up to Calistoga and led a wellness retreat at Solage Resort. Surrounded by breathtaking mountain ranges and steps from the charming downtown Calistoga in northern Napa Valley, Solage Calistoga is a luxury resort known for its fine food, geothermal mineral baths, and healthy California lifestyle. Since its debut in 2007, the resort has garnered acclaim and numerous awards from many leading travel, dining, spa and lifestyle publications. They house a Michelin Star restaurant ~ SolBar, Travel and Leisure has named them on the 500 World's Best List, Conde Nast Traveler has placed them on their Hot List, Best Spa List and the accolades go on and on. So as you can imagine, I was beyond excited to host a weekend wellness getaway in this famous California haven.
Solage resort has a casual, relaxed California attitude but it's all luxury. The property is comprised of individual cottages that include two cruiser bikes for getting around the resort or to ride into downtown Calistoga less than a mile away. They operate on an eco-friendly philosophy incorporating an extensive recycling program, use of solar panels, non-toxic cleaning products, organic produce and other environmentally friendly practices.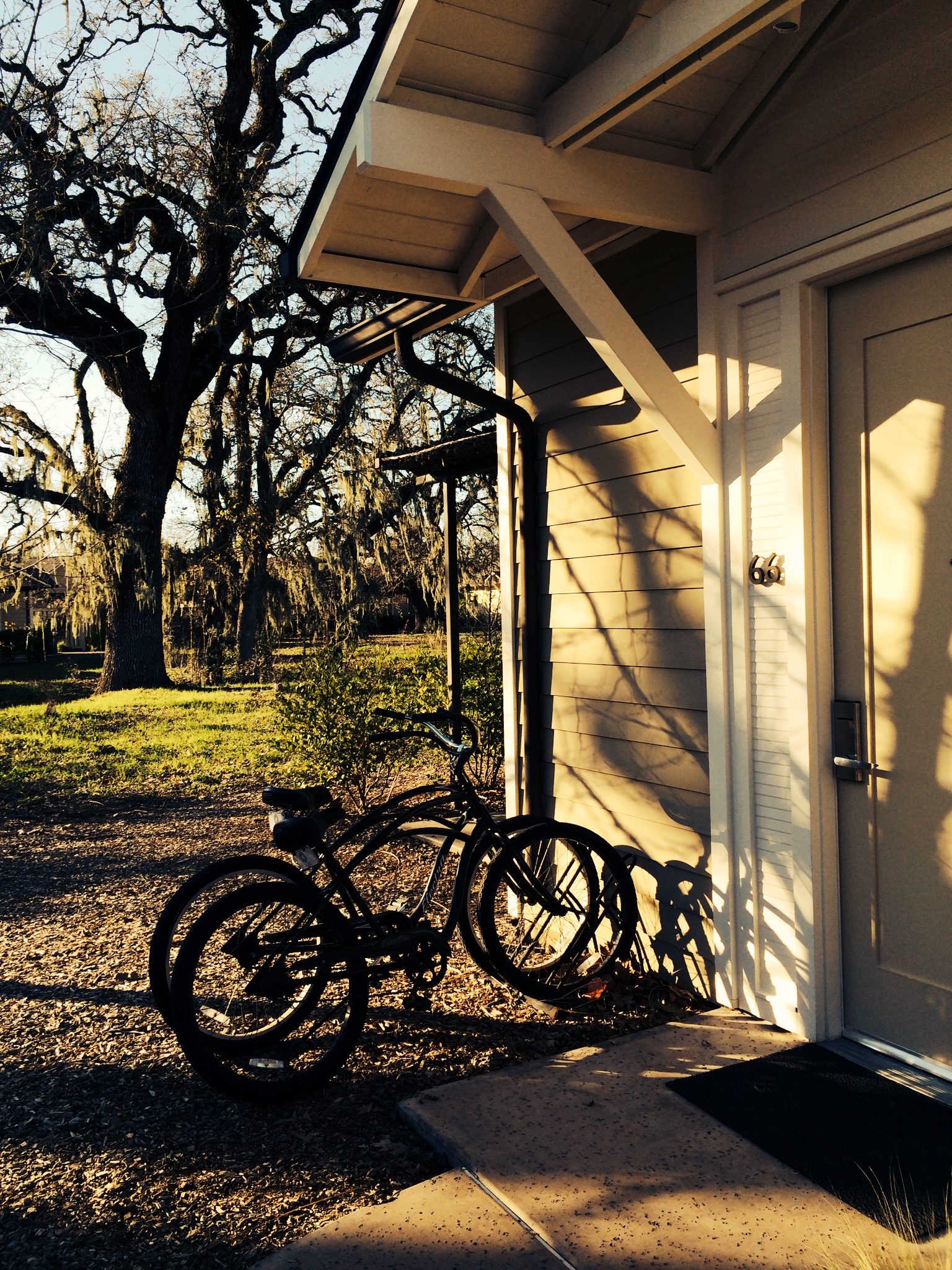 There are 83 cottages and 6 one-bedroom suites which are designed with clean lines, simplicity and comfort in mind. Its an instant inviting feeling the moment you walk into these units. The rooms are spacious and large sliding doors open up to a patio with comfy furniture for your lounging pleasure. While leading the retreat, I stayed in one of their Capella Suites: a large one-bedroom unit with fireplace, private patio, and a big bath tub. I felt like a California Queen. It was THE BEST. 
Solage has a Michelin Star rated restaurant on property called SolBar. I fell in love with the ambiance and food at this restaurant. The atmosphere is inviting, casual and so comfortable. Reservations are highly recommended, you can book a table inside, sit in the bar lounge on the comfy sofas, or cozy up outside by the fire pits. It's the perfect choice to enjoy a 4 star meal without a stuffy dress code. The menu offers a variety of interesting dishes and the bar creates signatures cocktails to compliment each season. I highly recommend coming here for a meal even if you are not staying at the resort….. or driving up to Calistoga just for a fine dining experience. 
One of the biggest highlights of Solage is Spa Solage. Conde Nast Traveler has voted this spa #1 in the Americas and Caribbean and #10 in the world, which is incredibly impressive. They are most known for their one of a kind three-step mudslide experience in addition to their several mineral water pools, fitness center, mind-body studio, and large list of weekly yoga and exercise classes. Heres a photo of their weekly Solage newsletter and class schedule (including my specialty workshops for the week as well!)
I feel so lucky to have had the chance to partner with Spa Solage in hosting a New Years Wellness Retreat in their beautiful space. Our weekend was a combination of fitness activities, wellness coaching, journaling, goal setting, healthy dining, and enjoying the lovely mineral baths on property. It was a time to disconnect from our busy lives, reconnect to our health and wellbeing, and set a positive intention on the year to come. It was a retreat in every sense of the word. Here are some of the reviews from the women who joined me:
"Caroline's 2015 Calistoga Retreat was the perfect way for me to start my year. It was a great balance of working out and reflecting. It was also a wonderful and thoughtful way for me to really hone in on the successes I want to find in 2015. After this retreat I feel ready to take on the new year and achieve my goals!" ~ Angela
"For me, the highlight of Caroline's New Years retreat centered around Caroline's positive energy. She led the group through fun activities that helped me feel good about my start to the year. The beautiful scenery was the icing on the cake to a great time!" ~ Laura
"Caroline is not only an amazing athlete who manages to inject fun and humor into her workouts, but she has a wonderful love of life that permeates everything she does. If you get to work out with her, not only do you feel great, but you are uplifted by her insatiable spirit and enthusiasm for life. Doing the retreat with her at Solage was perfect. It's a beautiful setting and I had an incredible time – but with Caroline you also never forget that you are basically with a world-class trainer. It's THAT good." ~ Jessica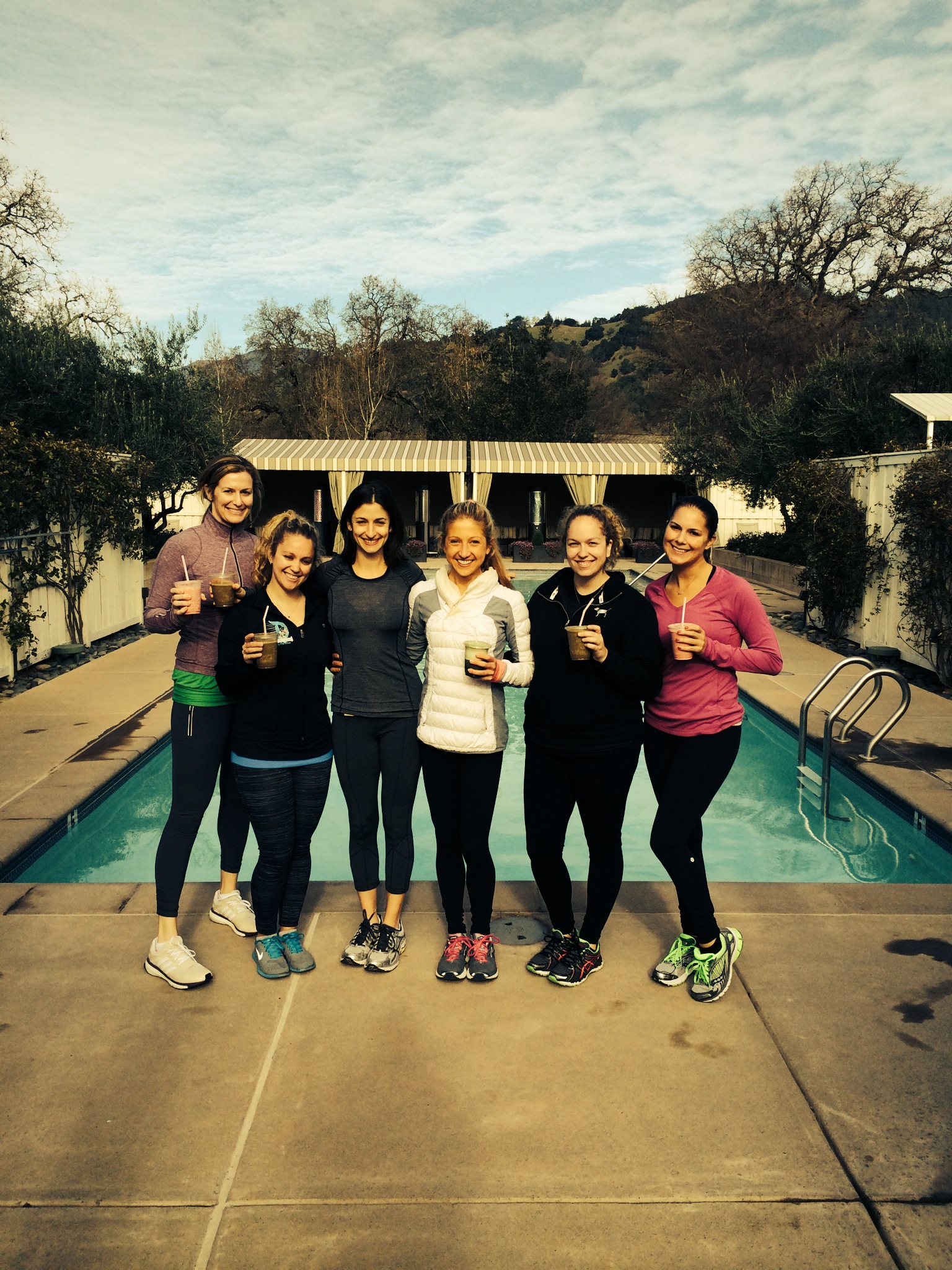 Missed the retreat but want to experience some of it with us? I took the opportunity during the weekend to film one of our retreat workouts with my little flip camera. Roll out your mat, press play, and join part of our January Solage Wellness Retreat from your living room!

Our weekend together was an experience I'll never forget and kicked off 2015 in a powerful, positive way. It was such a huge success that Ive decided to return to Solage and host a Spring Wellness Retreat Weekend March 21 and 22. If you would like to be a part of my next fitness and spa experience at this luxury resort, email me at [email protected] to get more information and save your space in Calistoga in March!
And if you liked the above Pilates and Yoga Fusion Workout YouTube video SUBSCRIBE to my channel and share it with your friends on Facebook, twitter, or email. Join the community online and get the support you need to live a healthy, happy life you love.
I hope you enjoy the above workout video and I look forward to sharing more fitness, wellness, and adventures with you in the year to come!
Yours in health,
Caroline
Other Things To Check Out This Week: