Chair Aerobics 30 Minute Workout Video. Cardio and Strength Exercise Routine.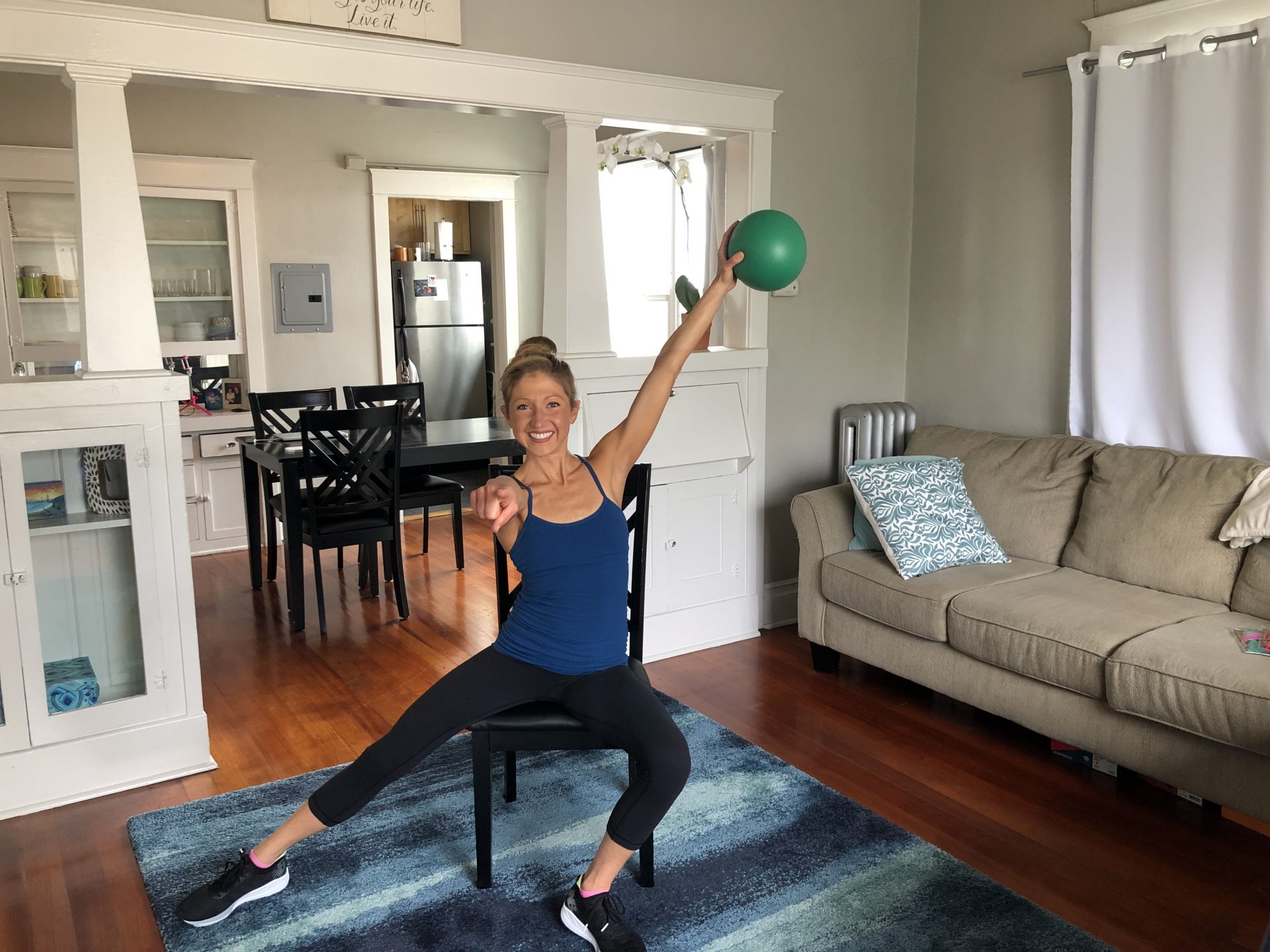 Using a chair aerobics exercise routine can help you get fit. Many people can benefit from chair exercises, especially those who have been injured, are out of shape, diabetic, or elderly. Could a chair exercise program help you? Read on to learn more and press play now.
"Several years ago I was diagnosed with RA. I could not understand what was happening to my body. I have always been very active swimming, aerobics, tennis, walking. You name it, I was in. This disease began crippling me in my joints, chronic pain all the time in so much, walking became difficult. I refused to give up so I bought a bicycle and rode through my neighborhood at least 3 to 5 times a week. It appeared swimming and bike riding were my limits. One day my daughter introduced me to Caroline Jordan's chair exercise videos. All I can say is Hallelujah, thank you Jesus, for the first time in years I feel as if I'm getting a real workout. Because I have severe pain in my knees and right foot it makes it difficult for me to do regular exercises and even ride my bike fast to get into my fat burning zone. Thanks to Caroline I have hope that my muscles and joints will not lay dormant. Her workout chair videos are a blessing from God. Thank you Caroline, keep doing what your doing." – Crystal Jones
"Caroline, My mom (79) and I (52) about a month ago found you here on You Tube. I had foot surgery back in December, 2018. I had awful complications that made it impossible for me to workout. I got very depressed this winter. Finally, I found you and asked my mom to join me in working out with you. It has been AWESOME! We LOVE your videos and are so thankful that you make them. We have noticed a difference in our mood and how we feel. I have told so many people about these videos. Keep it up!" ~ GoodVolks2Know, YouTube subscriber
Hurt Foot Fitness Coaching Program
Hip and Hamstring healing e-book
Full length, downloadable workout videos here. 
You can also contact me for virtual coaching and then we can do workouts together on your own schedule 😉
Hi Friends!
I've received such wonderful comments and feedback on my chair exercise videos that I decided to make some more for Caroline Jordan Fitness Youtube subscribers. I am here to help you in staying fit and being positive in your life. I aspire to create video content that is uplifting, energizing, and allows you to stay healthy.  If you are a fan of my Chair Cardio exercise workouts online, you are in luck! I just published a brand new chair aerobics 30 minute workout and this one is…. TOUGH!
What is Chair Aerobics?
Chair aerobics is a cardiovascular workout performed while sitting in a chair.
Who Can Benefit from Chair Aerobics
Many people can benefit from this chair aerobics exercise routine, including:
Seniors
People with diabetes
People with physical disabilities
People with injuries that prevent other types of exercise
People with chronic cardiovascular disease and congestive heart failure
Office workers who sit all day and need to move a bit
Benefits of Chair Aerobics
Chair aerobics has multiple benefits such as:
Improved strength and muscle tone
Improved range of motion
Better cardiovascular fitness and circulation
Better cognitive function
Potential to reduce pain
Better mood
Better sleep
Improved bone density
Want to try some chair aerobics for yourself? Get ready to break a sweat, get your heart rate up, and shape toned muscles all from your seat in this new 30 minute chair aerobics workout!
In this new Chair Aerobics routine, we will use a pilates mini ball for equipment. The pilates mini ball is an incredible fitness tool that can help your posture, performance, and fitness goals. You can purchase a pilates mini ball here.
All you will need to begin is a chair and a pilates mini ball (use a pillow if you don't have a pilates ball yet). Dress in clothing that keeps you cool and doesn't inhibit your range of motion. As you perform chair exercises, try to maintain rhythmic and continuous motion in order to elevate your heart rate. Always check with your doctor before starting this or any exercise routine. Monitor your heart rate and modify exercises as needed. Ready to get started?! Grab a chair, get your pilates ball, and lets do this together!
Chair Aerobics 30 Minute Exercise Class
GREAT job with that workout! How do you feel?! Im so proud of you for making time for yourself and your health. I hope this chair aerobics workout is one that you come back to again and again to feel your very best.
Want more? Get the : 
Full playlist of chair workout videos here
or check out the
Full length, downloadable workout videos here. 
If you like this video, please hit the THUMBS UP and be sure to SUBSCRIBE to the youtube channel for more great content to help you live your very best life.
Till next time my friends, keep smiling and sweating!
Caroline
Other things to check out: